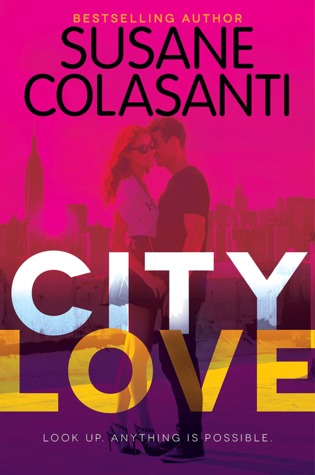 Title: City Love
Author: Susane Colasanti
Genre: YA Contemporary
Pages: 336
Format: Kindle ebook
Received: ARC-HaperCollins
Published: April 21, 2015
Stars: 3/5
Book Description:
Sadie, Darcy, and Rosanna are living together in New York City the summer before their freshman year of college begins. With no parents, no rules, and an entire city to explore, these three girls are on the verge of the best summer of their lives.
Sadie is a native New Yorker. She is hopeful, romantic, and an eternal optimist who is ready to find her soul mate. Then she meets her dream boy: cute, funny, and quirky in all the right ways. The chemistry between them is unreal. Could he be the one?
Darcy is a free spirit from SoCal with rebellious tendencies and unlimited financial resources. Moving to New York City is just another adventure for her. Darcy wants this summer to be all about boy adventures—nothing serious. But how much fun is too much?
Rosanna leaves Chicago for NYC so she can put her past behind her and reinvent herself. The only thing standing in her way is the grand total of seventy-three cents she has saved. Then she meets a guy who wants to show her the glamorous side of New York—a side that she would never get to experience on her own. If Rosanna doesn't resist, she may find herself in city love.
Told from alternating points of view,
City Love
captures the moments in each girl's life when everything is thrilling, amazing, and terrifying all at once . . . in a way it will never be again.
My Thoughts:
I read this book in two days, so it definitely kept me entertained. In the past, I have read Colansanti's other books, but this one is more light-hearted than the what she usually writes. The book is told in three perspectives, which got a little confusing at some points.
Sadie: Sadie was probably my favorite girl in this book. She was care free, a romantic, and motivated. The thing that annoyed me with her was the way she talked. At some points I forgot she was an eighteen year old adult because she sounded like she was ten. Constantly she used the terms, "it's my jam" and "warm fuzzies". I am eighteen and I definitely don;t talk like that. It just seemed immature. Her relationship was cute and fun. Then at times it got to be too much. What even was the guys'name? Austin....maybe... I found myself staring at my Kindle, shaking my head in annoyance. The end of her story made me scream; seriously, shocker! But really, I need to know what happens!
Rosanna: Rosanna was simple and I liked that. She wasn't fake or annoying. Her story was interesting and kept me guessing. The thing I enjoyed most about her was that she had total girl power. I was rooting for her the whole book because she knew her morals and stuck with them. Eventually she broke from her shell. All in all, she was the soft character in the book. I am interested in how she will fare in the next book. She deserves a happy ending. And D...hands down my favorite guy in the story.
Darcy: Okay, I really couldn't stand her. She reminded me of those girls in high school who looked down on you if you didn't party or whatever. Trust me, being a recent high school graduate, I know the type. Darcy lacked morals and a brain. I was really disappointed with her. Not a huge spoiler, but her carefree hookups? Super annoying. It sends a bad message to young girls. Newsflash, hooking up with random guys you just met in a Gap dressing room? Trashy. Please don't be a Darcy. Her relationship with Jude was just okay. I loved Jude though! He deserves a happily ever after too. The end of Darcy's story also left me with a hanging mouth. I just hope she wisens up and becomes more mature.
Talk about a cliff hanger. All in all, this book was a fast, cute read. It just didn't completely make me sequel with excitement. Nevertheless, I will still read the next books in the series. I am curious about how everything will play out.
Shout-out
to Colansanti for referencing to Gossip Girls. :p And so much love for the cover. Super cute!