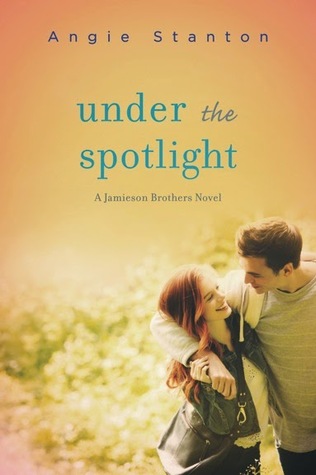 Title: Under the Spotlight
Author: Angie Stanton
Genre: YA Contemporary
Pages: 400
Recieved: ARC-HarperCollins
Format: Kindle ebook
Published: May 5, 2015
Stars: 4.5/5


Book Description:
After an embarrassing stint on a reality-TV music competition years ago, Riley vowed never to sing again. Now she's behind the scenes, working at the prestigious Sound Sync recording studio, and life is looking up. But then Garrett Jamieson, the oldest brother in the famous Jamieson brothers band, crashes into her world.
Garrett has hit rock bottom, and he is desperate to reinvent himself. After calling in a few favors, he ends up working at Sound Sync to learn the ropes of record producing from the industry's best. And he can't believe his luck when he discovers that Riley has been keeping a secret—she is an amazing singer. By producing her album, he's sure to top the record charts again. But Garrett is forced to use every trick in his arsenal to persuade the sassy girl to record.
Riley refuses to sing—or even entertain the thought of it—and sparks fly as Garrett finally meets his match. But in the heat of the moment, one stolen kiss changes everything. Will Riley be the first person to finally rein Garrett in, or will Garrett succeed in getting Riley back under the spotlight?
My Thoughts:
I have so many feels after reading this book. I started it at midnight last night and then eventually had to go to bed at like three AM. Thankfully, school was cancelled for snow day so I could finish this book.
Riley was a spit fire and I loved her girl power. She isn't one of those girls who fawns over the hot celebrity which I applaud. Her head was in limbo and no wonder why. Her mom is freaking nuts and I hated her guts. Good for Riley that she is making a name for herself. The banter between her and Garrett made me smile. She was not about to let him push her around. I am so happy she got over her fear of singing-she deserved the break.
Garrett is the typical "troubled rock star". His band broke up, and yah that sucks, but he needed to move on. He was a total jerk in the beginning and I loved how Riley put him in place. I will say that he is a great, hot book boyfriend. I am super glad he found his footing at the end of the novel. You could definitely see the character growth for him.
Overall, this book left me with the warm fuzzies. It was a perfect book to read while I watched 2 feet of snow come down. There were some things that were a bit unbelievable but that would include me spoiling the book, so I'll stay quiet. I do wish their were more romance scenes because I felt kind of jipped. The ending felt a bit rush and I could see another book being written about them. It didn't seem to be a complete ending. Otherwise, it was a fun, quick read. I laughed and I cried. Whenever a book makes me do both, I call that a success. So, I applaud Ms. Stanton for this book. So glad we saw Garrett's story instead of him as a background character. Probably my favorite Jamieson novel.
A recommended read! :)
Also, so much cover love.